Education

Belli Society Free Webinar Series
All webinars are 12-1 PM EST
Registration details will be sent via email.
February 12: Kirk Morgan, Tips to avoid Defense Backdooring Hearsay during cross-examination
March 11: Betsy Greene, Liens – how to quash them, minimize them, and best protect your client once and for all
April 8: Tad Thomas, Social Media – What you absolutely need to know; playing offense and defense to win your case and protect your client

Past Webinars
Click here to watch past recorded webinars (for members only).

---

First Ever Melvin M. Belli Society Stand-Alone Seminar

In the Spirit of Mel Belli: Cutting-Edge, New and Innovative Ideas for Your Cases and
Your Practice.

Learn, Network and Earn 14+ CLE Credits!

April 26-27, 2020
The Whitley, Buckhead
3434 Peachtree Rd. NE
Atlanta, GA 30326

FREE registration for Belli Society members.

CLICK HERE to view the agenda.

The Belli Society is proud to present its first ever stand-alone two-day seminar with some of the nation's top attorneys in Atlanta, Georgia. This free seminar is being offered exclusively to Belli members as a special member benefit. The first day will consist of an exciting, rapid-fire formatted discussion of cutting-edge ideas for trial and recently developed causes of action. Afterward, there will be a wonderful dinner to celebrate the Belli Society and you will not want to miss it! The second day will feature the "Legends of Belli" sharing their collective wisdom.

You will hear from 36 expert attorneys including: Mark Lanier, Lisa Blue, John Romano, Mark Mandell, Ira Leesfield, Gary Gober, Bruce Stern and Michael Magginao, Joe Fried, Marion Munley, Adam Malone, Todd O'Malley, Ken Levinson, Betsy Greene, Eric Romano, David Mittleman, Jason Konvicka, Morgan Adams, Florence Murray, Robert Wagoner, Michael Neff , Daniel Buba, Lauren Fraser, Steve Gorny, Jonathan Karon, Michael Leizerman, Joseph Neal, Jr., Randy Rozek, Sagi Shaked, Lawrence Simon, Brian Snyder, Nick Vanderame, Rebecca Walsh, Jason Studinski, Antonio Romanucci, Andrew Buzin and Harry Rothenberg.

For those of you who will arrive on Saturday, April 25, 2020 – there will be a special peek into the life of Melvin M. Belli! Come learn about Mel's most important cases and view historical artifacts including his 1983 Rolls Royce Corniche Convertible. Enjoy a wonderful evening of comradery, cocktails and heavy hors d'oeuvres at Adam Malone and Haley Hooks home. Kindly sponsored by Malone Law Office. Transportation will be provided. More details to come.

Please RSVP for the seminar to Ginger M. Jirik at ginger@connectionology.com or 843-992-4540 and include your contact information. Seminar includes: CLE Credits, Electronic Materials, Coffee & Beverage Breaks, Lunch, a Special Dinner Reception and access to First Class Exhibits! Please note: While speakers have confirmed, they are always subject to change due to trial schedules.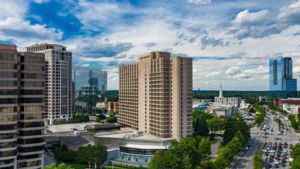 The Belli Society group room block at The Whitley hotel is sold out. However, you may still be able to take advantage of the special rate by clicking HERE or by calling 404-237-2700. Be sure to mention that you are with the Belli Society Seminar.
---

73rd Annual Melvin M. Belli Society Seminar
Friday, July 10, 2020, 9 AM - 5 PM
Marriott Marquis Washington DC
Independence Ballroom

Open to any Plaintiff Attorney
Free of Charge, No Registration Required