Melvin M. Belli, a Biography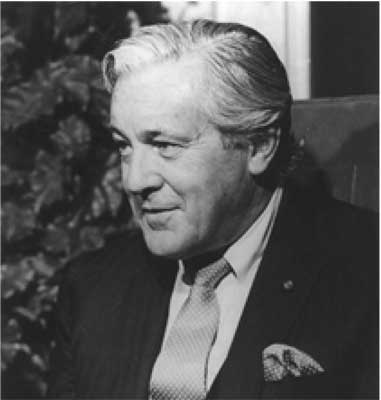 Mel Belli was born into a pioneer family in Sonora, Tuolumne County, the heart of California's Gold Rush region. His father, Caesar Belli, was born in Eureka, Nevada and was a prominent banker in California's Mother Lode region. His grandmother, Anna Mouron, was California's first woman druggist. Henri Mouron was a professor of languages at St. Augustine's College and headmaster of the Young Ladies Seminar of St. Mary's of the Pacific, one of the first schools in California.
Mel Belli attended elementary schools in Sonora and Stockton, California, before attending the University of California and Boalt Hall School of Law, Berkeley where he received his LB in 1933. His first job after graduation was posing as a hobo for the Works Progress Administration and riding on the railroad to observe the Depression's impact on the USA vagrant population. His findings were later used as the basis for transient relief programs throughout the nation.
He was admitted to the California Bar in November 1933 and served as counsel for the Catholic priest at San Quentin Prison. He accepted the challenge of representing men on Death Row. Thus began a legal career representing individuals in personal injury cases and in raising personal injury awards to then-unprecedented heights that earned him the title of "The King of Torts" by Life Magazine writer Robert Wallace in a 1954 profile. Wallace later wrote a book about Mel Belli and his work entitled "Life and Limb."
In his first personal injury lawsuit, Mel Belli represented an injured cable car gripman. Over defense attorneys' objections, Belli brought a large model of a cable car intersection and the gearbox and chain involved in the accident to court to demonstrate to the jurors exactly what happened. Mel Belli was called the "Father of Demonstrative Evidence" for his pioneering work in illustrating in court the nature of his clients' injuries. His early use of photographs, movies, scale models, human skeletons, animals, prostheses, and other devices was dramatic, riveting and highly effective.
Mel Belli's high profile clients included Mae West, Errol Flynn, Lenny Bruce, Zsa Zsa Gabor, Muhammad Ali, Alex Haley, the so-called "Angel of Death" – the Nevada nurse accused of murdering patients, television evangelist Jim Bakker and his wife Tammy Faye, the Korean jetliner disaster, the MGM Grand Hotel fire in Las Vegas, the collapse of the Kansas city Hyatt walkway, the Benedictin birth defect cases, and Sirhan Sirhan. In his best known case, Mel Belli represented Jack Ruby on trial for the murder of Lee Harvey Oswald, the assassin of President John F. Kennedy. Belli attempted to show that Ruby was legally insane and had a history of mental illness in his family. On March 14, 1964, Ruby was convicted of "murder with malice" and received a death sentence. However, in late 1966, Ruby's conviction was overturned by the Texas Appellate Court and he was granted a new trial outside of Dallas, but Ruby died before the second trial could take place. Belli wrote a book, "Dallas Justice," on his perspective of the Jack Ruby case.
Belli wrote more than 60 books including the multi-volume "Modern Trials" which is still considered a classic textbook on demonstrative evidence.
Belli loved to act in movies and on television and took an occasional acting job beginning with an appearance on the original Star Trek television series in 1968 in the episode titled "And the Children Shall Lead" where he played Grogan, an alien corrupter of youth. He was also a guest on countless television and radio talk shows.
Mel Belli loved the law and the limelight equally and left behind a legacy of both creative and controversial "lawyering." Belli reveled in his victories and after winning a big case, raised a Jolly Roger on the roof of his landmark building in San Francisco and fired off two blasts from a signal cannon. Belli once said, "There may be better lawyers than I, but so far I haven't come across any of them in court."
Many members of the Belli Society worked personally with Mel Belli or attended his famed "free" Belli Seminars. Following are comments from just a few:
Stanley Preiser
On Mel's 80th birthday there was a fabulous party attended by many celebrities including Dianne Feinstein, Jerry Brown, Alex Haley, Lana Turner, and the San Francisco Giants baseball stars.
Henry Weil
I had the pleasure of staying with Mel on his "boat" which he aptly named "The Adequate Award" several years ago once it became his home after one of his divorces. When I got back from taking Mel's dogs for a morning stroll, Mel was already in his Rolls Royce and told me and the dogs to get in. He raced up the highway toward Santa Anna and honest to God I thought it was my last ride as the dogs were jumping in and out of his lap and the car was swerving all over the road. Mel proceeded to tell me we were going to visit one Ramone Salcido in prison who had just killed his entire family, wife, kids and several other people including his boss. He had been appointed a public defender but had asked Mel to come see him. Once in the cell, I noticed pictures of his family taped to the walls and he asked Mel if he could get him out right away so he could go see his family. He had apparently taken some dangerous substance and presumably was unaware that he had killed his family. He did run off to Mexico after the killings but then waived extradition and returned to California. Mel handed him a small piece of paper on which was written the name of a treaty between the U.S. and Mexico from the 18th or 19th century which provided that anyone who waives extradition from Mexico cannot be executed. Mel said, "Give this to your public defender. It will save your life." As far as I know, Ramone lived happily ever after.
Monty Preiser
My favorite story showing Mel's incredible worldwide reputation involves a situation when he was actually not in the room. During the first Belli Society international trip to Berlin, there was a reception the first evening so that German lawyers and the American lawyers participation in the next day's seminar could meet and get to know each other. The reception was to begin at 7:00pm but Mel's plane was late. Punctuality being the hallmark of the Germans, they waited "patiently" until 7:10 and then politely said they had come to meet Mr. Belly (as they called him) and were leaving. And so they did. I guess the rest of us – which included Howard Specter, Linda Atkinson, Sidney Bernstein and myself, meant nothing. Such was Mel's mystique.
Tommy Malone
To say Mel Belli had a profound impact on my career and my life would be a grave understatement. Mel taught me to look beyond the horizon. He exposed me to the great thrill of making a meaningful difference in another person's life by applying the law, talent and hard work. He taught me to have fun while doing this. My first trial with him was more than a masters degree in trial advocacy. He was my inspiration, my mentor and my friend. He not only believed in me, but caused me to believe in myself.
There are so many stories to tell, but most are not fit to describe here. Mel loved being Mel. He was the consummate connoisseur of all things fun, if not decadent. Traveling, dining, being interviewed by the press, trying cases, being controversial, and just being Mel made his life unique. I am so happy Adam got to know Mel and we both recall most, if not all, of the interesting trip we took when Adam was only eleven years old. We met Mel and his very interesting entourage in London, traveled to Paris, Switzerland, and Rome where the Belli Society gathered for one of our enjoyable international exchange meetings.
Mel touched so many lives in such a meaningful way. He will long be remembered by all who came in contact with him. His contribution to the system of justice in this country and abroad will serve as a lasting testament to his memory.
J. D. Lee
I enjoyed immensely my personal and professional association with Mel beginning in the late 50s until his death. We handled the first Chloromycetin (Chloramphenicol) case against Parke Davis, some run-of-the-mill tort cases, and a few years ago a punitive damages class action against Vanderbilt University and some drug companies arising out of experimental radiation treatment.
Needless to say he was a great teacher by example. I remember so well how proud I was as a young lawyer to have my cases listed in his multi-volume Modern Damages set. One time appearing on the Belli Seminar he whispered to me "J.D., don't be so nervous. You're doing great." I neither remember my topic nor the location but I remember his calming remarks to me.
In one of his many lectures he stated to the audience "No matter the hardships and adversity, we have the inner strength and courage to overcome it." As the years roll by for me that profound statement is still embedded in my mind as a Belli truism that has added to my strength and courage over the years. Thanks to Mel for so many things – big and little.